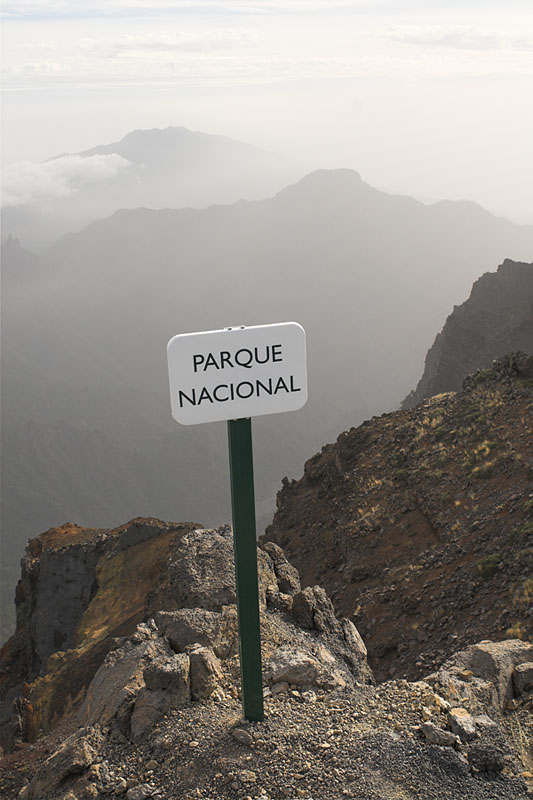 Although Madeira does not belong to the Canaries and sails a good 500 km north I included it here for its proximity, both in geographic means and its volcanic origin. For those who seek active volcanism, the Canarian Islands are a must, albeit the chances of witnessing an eruption are almost nonexistent. Even the oldest island Lanzarote is shaped by recent volcanic eruptions. The climate is ideal for hiking the whole year around, the exception being Madeira. After a not too long flight the tourist finds a good infrastructure, an interesting mountainous terrain with a good network of trails.



Thinking about a suitable target for a Christmas vacation, Madeira came in our mind. With its southern location and mountainous character it looks like a playing ground from the hiker's perspective. Yet the promises made in the travel guides about "hiking in Madeira is possible all year round" are somewhat misleading. The upper mountains indeed receive their dosage of rain, fog, and storm during winter, turning an supposedly easy walk into a tough experience.

The island is famous for normal tourism, not for backpacking. On the other side it hosts a great landscape for hiking. And the 3,718 m high volcano Teide inside a 17 km wide caldera is something that nobody should miss to take a look at. So never mind the hotel and the rental car, it all serves only a purpose.

La Palma is much smaller compared to Tenerife, and thankfully calmer, yet still better suited for a good week of hiking activities. The unique sight of the Caldera de Taburiente alone is worth a trip, also the relatively young volcanism that adds interesting details to the beauty of the landscape, which offers more green than any other Canary island.


Being the oldest island of the Canaries in geological terms, it seems like the youngest when looking at the devastation around the eruption sites from less than 300 years ago. The volcanic episode from 1730 till 1736 still is the biggest by far within the Canary Islands and historical time. On the other side, Lanzarote offers quite a few nice sandy beaches, a dry climate, and the scarce vegetation gives it a desert-like charm that combines well with the active volcanism. The many hiking routes are shorter than elsewhere, but interesting.

No modern volcanic activity is present today on Gran Canaria, yet volcanism is the island's basis, into which erosion has carved its final profile. Big enough for more than a week of hiking, we concentrated on the inner part having our base in the village of Tejeda, which lies on the eastern edge of the Caldera de Tejeda at about 1000 m. Driving along the small winding roads is a tedious undertaking, and so we saved our precious time and spared us a bath in the Atlantic, but went instead to every imaginable point around the central part of Gran Canaria. We'll be back for more.