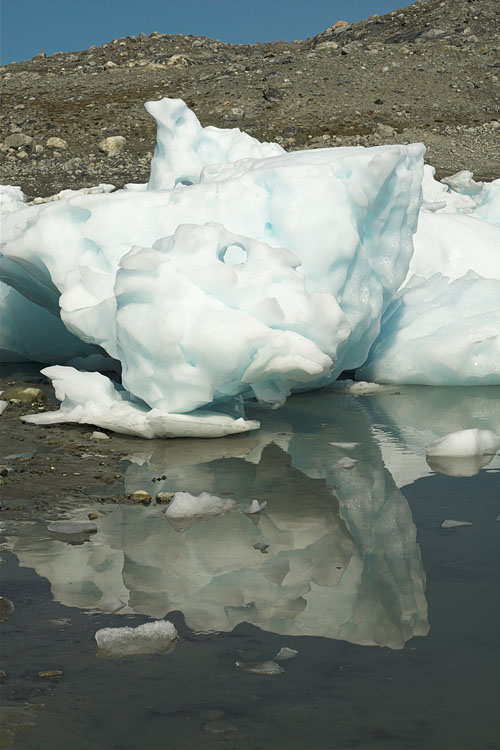 Greenland is not a continent. Geography celebrates it as the largest island on Earth, an island too exotic for most people to think about spending their vacation there. In spite of its size only fifty thousand inhabitants live along the coast in Greenland, most of them in the south and the west coast. The interior of the island is a great white spot both on the maps and in practice, thus forbidding settlements altogether.

Up till now I had had no ambition to set my feet onto the ice cap, since this would require other equipment than the normal hiking gear. The area near the ice is interesting enough and the ice far more beautiful from afar. A problem are the barriers which define the "habitat" of a hiker in Greenland: fjords, glaciers, and rivers that cannot be crossed without special equipment. Nevertheless it is possible to find a nice spot big enough for a good hike.

In 2006 we made a tour within the Johan Dahl Land near Narsarsuaq. South and Greenland is a strange combination of words, but it is not a mistake from the geographic perspective. With the big white spot in mind that Greenland creates on the map one might wonder about the local hiking possibilities, apart from crossing the ice shield. The territory near the coast is an untouched wilderness with an arctic charm. And, it was a first time form me coming out of an "international" airport and staggering directly into the wilderness without further driving or flying.

While the Johan Dahl Land provides the ground for longer tours, the opposite direction promises more impressive views within shorter reach. In any case it is worth to hike up the Blomsterdalen, a beautiful day hike, which is easily extended one or two more days by climbing up the rock wall to good views of the glaciers, the static Kuusuup Glacier and the calving Qooqqup Glacier on the other side of the mountain ridge.

The countryside near the village Kapisillit was the target of my 2010 tour, several hours away from the capital Nuuk. Cargo ships pay regular visits to the settlement and can be used for getting there. There is room enough for hikes up to three weeks with good views at the ice cap.

East Greenland seems a bit colder than the west coast, at least judging by the ice and the number of settlements. However, during my stay in July I couldn't find a difference. The only direct access is via Iceland to Kulusuq, the area around Tasiilaq. All other destinations along the coast require expensive and time-consuming expedition-like transportation. Then, there are polar bears. On Ammassalik island chances of meeting one in July and August are rather low. Any trouble from bears is easily outweighed by possible gun accidents. In my opinion, some firecrackers are a better choice, if available.